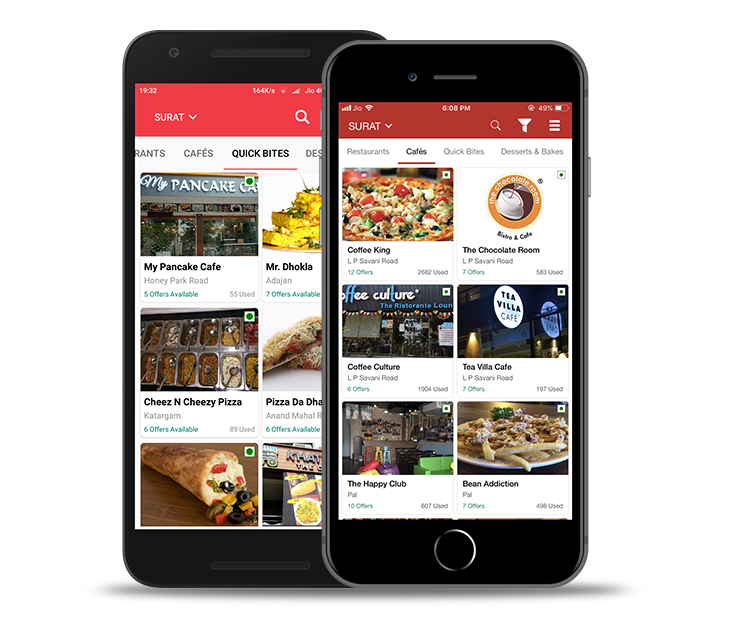 Get upto 50% OFF with FOODSOME Membership. Buy Now!
200+
Restaurants & Fastfoods
₹20,000+
Worth of Benefits
PLATINUM

POPULAR

---

12 MONTHS

Star () Offers

All Other Offers

SELECT
How To Use FOODSOME Membership?
STEP 1
Walk-in to any of the FOODSOME associated Restaurants.
STEP 2
Place your order & inform the staff that you are a FOODSOME Premium member.
STEP 3
Ask waiter for pin at the time of billing and pay your discounted bill.
---
Know More about FOODSOME Membership
What is the use of FoodSome App?
FOODSOME is a mobile app, available in Android & iOS. It helps its customers to save money on restaurant bills through exclusive offers. FoodSome is very much easy & hassle free app. Customers don't need to carry paper cutting or food coupon all the time. Just display foodsome app at restaurant & get the benefit.
Do I have to buy FoodSome Membership to avail all offers?
Yes. Customer has to buy Membership Plan to use offers shown in app.
Can I use offers in other city as well?
Obviously Yes. That's the beauty of this app. If you are visiting other city, You still visit our parnter restaurants & enjoy benefits of available offers.
How to Redeem Offer?
Once you become FoodSome Member, You can visit any of listed Restaurant. Show your mobile to Restaurant Manager before giving any order. Restaurant Manager will enter 4 digit password to redeem any offer. Every Offer has its own 'Terms & Condition', Please read it carefully.
What If I change my mobile or If I uninstall FoodSome App?
It's simple. Just Download FoodSome Mobile again, Enter your registered Mobile Number & You can start using Offers again.
Call 9408700060 in case of any query.